Local Plumbers in Sevenoaks
When you need a reliable plumber, let Heat Tec 2000 help!
We offer a range of plumbing services to customers working/living in the Sevenoaks area. Leaking pipes? Water running cold? Need a boiler repair? Don't worry, we can help!
Our service includes the maintenance and fixing of pipes, diagnosing any issues with flooding, the repair of boilers to ensure adequate hot water and heating, kitchen sink and toilet repairs, as well as power flushing and gas safety checks.
With every new plumbing job, we will give the same level of care and attention as if the problem was our own. The need for plumbers has increased by 3.2% each year since 2017 and with this in mind, all of our plumbers have years of experience between them and are fully qualified, as well as being Gas Safe registered. When you choose us to carry out your plumbing issues, we will provide you with a professional and high-quality service, making sure you understand the work we do and why.
So whether you need a new sink installed, a tap repair, or anything else plumbing-related, don't hesitate to get in touch and ask us for a plumbing quote. We are always happy to help anyone looking for plumbers in Sevenoaks.
Emergency Plumbing Services
If you need a emergency plumber Sevenoaks to carry out an emergency repair in the area, simply call Heat-Tec today. Our highly skilled team of professional plumbers can be on hand to assist with any plumbing issues that you may have. We also advise that you don't try to fix a plumbing problem yourself and always speak to a professional.
We understand that it's never easy to predict when a plumbing issue may occur, which is why our professional heating engineers and plumbing experts in Sevenoaks will be on hand to assist with your emergency repairs.
You can trust that you're in the right hands with Heat-Tec, all of our plumbing specialists are skilled and experienced, this will include a range of heating and plumbing areas, so when it comes to plumbing installations and issues, you can trust that you're in the best hands with the Heat-Tec team.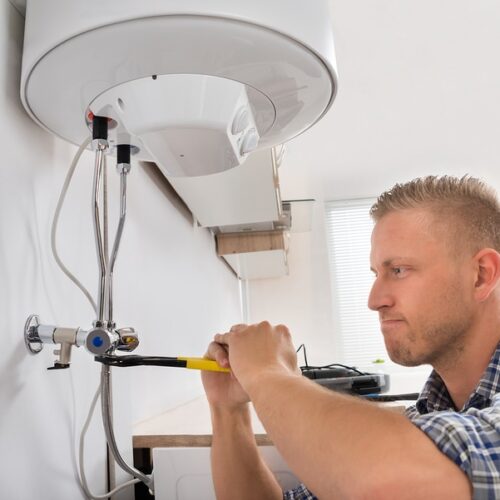 Offering Plumbing Services in Sevenoaks
Our plumbers offer a range of services from installations to repairs, to customers throughout the Sevenoaks area. With years of experience we have honed and developed all the necessary skills to ensure a high standard of work is carried out as efficiently as possible. No matter how big or small a project is; our plumbers are more than happy to undertake it.
Domestic & Commercial Sevenoaks Plumbers

No matter whether you own a small or large business, your business still heavily relies on a working plumbing system. This is why we offer a range of commercial plumbing services to businesses based in Sevenoaks and the surrounding areas, it's important to keep an eye on your plumbing systems to prevent any future damages. Let Heat Tech take care of your commercial plumbing needs and get in touch with our team today to receive expert service. With our excellent commercial plumbing services, our team can maintain your current system while quickly installing any additional features. 
We have worked with many businesses across Sevenoaks in search of commercial plumbing assistance, so no matter the problem, we'll be there to help. Our main aim with every service is customer satisfaction, so put your trust in our team to complete your commercial plumbing work to the highest standard. So if you are in need of a Sevenoaks commercial plumber, be sure to contact the team at Heat Tec. 
Plumbing Repairs - Common Reasons For Needing A Plumber
Our fully qualified plumbers can provide a range of plumbing solutions in Sevenoaks, including replacement taps, washer changes, ball valve, kitchen sink repair, pipe repair, toilet repairs, burst pipe repair, blockage removal, appliance repairs, outdoor tap repairs and much more. If we haven't listed the problem, please get in touch with us and one of our staff will be more than happy to assist you.
We provide a wide variety of different types of plumbing repairs to our customers across the Sevenoaks area, don't think that just because the job is either exceptionally large or very small that you won't be able to get the assistance you need. When it comes to emergencies such as a pipe that bursts, we're more than happy to come out with a deal with problems for you to minimise the damage. At Heat-Tec, we've encountered many different plumbing problems and so our highly skilled plumbers can easily assess the situation and come to a quick solution.
As your local plumber Sevenoaks, we offer a range of repairs. These include:
Pipe repairs

Tap replacements

Toilet repair

Leaking Taps

Unblocking of pipes
Our Sevenoaks Plumbers are available to both domestic and commercial customers. All work is carried out by our qualified plumbers, offering peace of mind that you can trust us with your plumbing repairs.
Searching for 'Plumbers Near Me in Sevenoaks'
If you desperately need a plumber Sevenoaks, there are a few things you should consider, to ensure the plumber you choose can offer you the services you need. From experience to quality workmanship, make your choice very carefully. Our plumbers have undergone years of training to ensure they can offer a comprehensive plumbing service to all customers. They cover everything from toilet repairs to bathroom installations and new boiler replacement services.
Over the years, we have continued to develop our knowledge to ensure we are among the most reliable, best plumbers in Sevenoaks. We aim to deliver a high standard plumbing service with every new job we take on and will communicate with you throughout the work. This ensures you understand the work that our plumbers are carrying out and why.
When looking for local plumbers in Sevenoaks, there are lots of reasons to consider Heat-Tec, here's why you should choose our highly skilled team when searching for 'plumbers near me'…
Swift response in emergencies

Excellent customer service

Reliable installations, repairs and maintenance

Comprehensive plumbing service

Experience from dealing with a range of plumbing repairs
For Professional Plumbers in Sevenoaks Contact Heat Tec
Having worked throughout the Sevenoaks area for a number of years, our team of plumbers have developed a well-known and highly respected reputation for the standard of plumbing work that they carry out.
Being accredited with a number of industry bodies, when you choose Heat-Tec, you'll be in safe hands. Offering a comprehensive range of services to customers throughout the Sevenoaks area, our plumbers can carry out a range of plumbing repairs and installations for you. For more information on the services, we offer to customers throughout the Sevenoaks area feel free to get in touch.
Our heating engineers also offer a range of services across Sevenoaks including; boiler installations, boiler servicing, burst pipes, central heating, immersion tank installations, oil boilers, power flushing, underfloor heating, boiler finance, boiler repairs, commercial boilers, plumbing services, LPG boilers and gas safety inspection services.
We also offer our services across Beckenham, Caterham, Mitcham, Orpington, Bromley, Croydon and West Wickham
Frequently Asked Questions