Plumbers in Caterham
When you need a plumber, you need one that can come out to your location quickly and deal with the problem correctly the first time around. The last thing that you want to deal with is having a plumbing problem that you are already dealing with exacerbated by a company that either can't get there for days or that doesn't truly fix the problem the first time they come to your home or business. When it comes to needing plumbers in Caterham, you should think no further than our company at Heat-Tec. We specialize in a variety of different plumbing situations and therefore, we are capable of providing you with the type of service that you deserve.
Plumbing Services from Heat-Tec
The most important thing that you should know about our company is that all of our technicians have the knowledge and the expertise to find the source of your problem and then handle it accordingly. Even if your problem is an immensely challenging one, our technicians know what they are doing and therefore, they are capable of finding problems that other people might miss. In addition, our company prides itself on going out of the way to work with you when it comes to helping you find a solution that works for you and working around your busy schedule. We fully understand that we are there to serve you, not the other way around. As such, we go out of our way to ensure that you have everything you need to deal with the problem and then we handle things on your behalf without making the situation more frustrating than it already is.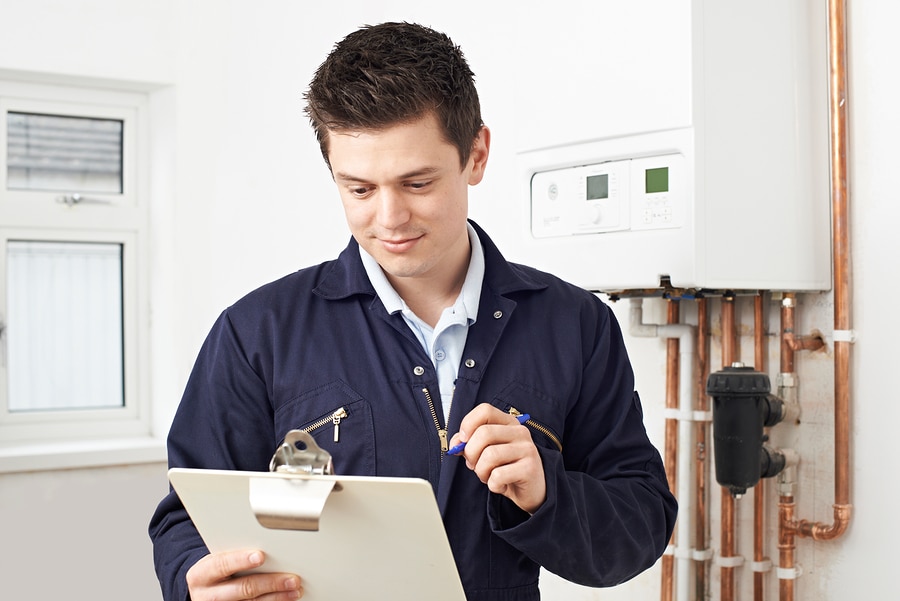 Types of Plumbing Repairs
We perform a wide variety of different types of plumbing repairs. Don't think that because the job is either exceptionally large or very small that you won't be able to get the assistance you need. In fact, nothing could be further from the truth. We handle things as small as changing out washers so taps stop leaking and performing ball valve repair to major situations that might be considered an emergency. We commonly replace taps and we even perform maintenance on sinks for the kitchen and washroom, sometimes replacing them in their entirety. Of course, we can and do work on toilets and other common plumbing issues. Whether you have a toilet that runs on constantly or you have one that is constantly clogged, we can handle the problem and get you back on track. The same goes for leaky taps, other drains that are backing up and even appliances that aren't working properly. If it involves water, we can handle it. We commonly perform our services for taps that are both indoor and outdoor and over the years, we can safely say that there is virtually nothing we haven't dealt with at least once or twice. Of course, if you have an emergency situation such as a pipe that has burst, we are more than happy to come out and deal with the problem for you in order to minimize the damage.
Why Heat-Tec?
If you desperately need a plumber in Caterham, there's a few things you should consider, to ensure the plumber you choose can provide you with the services that you need. From experience to high quality workmanship, simply call Heat-Tec's plumbers today. Our professional plumbers have undergone years of of training to ensure that they can offer a comprehensive plumbing service to all of our customers. They cover everything from toilet repairs to bathroom installations.
Over the years we have continued to develop our knowledge and make sure we are among the most reliable plumbers across the area. We aim to deliver a high standard plumbing service with every new job we take on and will ensure that you're informed throughout the project.
Quality plumbing solutions
Regardless of how small or how big your plumbing problem is, you need a company that you can trust. The last thing that you need is to have someone that makes a bigger problem out of the situation. Therefore, you need someone who understands that you should always be a priority, no matter what. At the same time, you want a company that you know you can count on to do the job right so that the repair lasts. It won't do you any good if you find yourself in a situation where you are constantly having to call someone to fix the same problem over and over again. When you call us at Heat-Tec, you have our guarantee that the repairs are solid and that we truly do put you first and foremost before anything else.
Even Small Plumbing Problems Can Spell Big Trouble
In many cases, even the smallest plumbing problems can eventually spell big trouble if they aren't addressed correctly. A lot of people have a tendency to wait whenever they start to notice a problem with their plumbing, especially when that problem seems to be relatively minor. The problem is, these relatively minor problems can very quickly turn into something that is not minor at all. You have no idea of knowing when or if that will occur, but you have to know that it is better to get the problem addressed quickly so that you don't have to worry about it.
For plumbers in Caterham, call Heat-Tec today!
The best plumbing companies out there are capable of combining a great deal of knowledge about plumbing problems with an ability to work one-on-one with the customer. While we perform plumbing services, our business isn't just about plumbing. It is about helping people when they realize that they have to find someone that can handle a problem that they may not be able to handle on their own. Therefore, we take a great deal of pride in ensuring that our customers are always cared for the right way.
If you are tired of dealing with plumbing issues in your home or business or you have tried other companies in the past and you weren't satisfied, it is important that you know that we provide all kinds of plumbing services in and around the Caterham area. If you need to find out more about our services or you want to schedule an appointment, contact us at Heat-Tec by giving us a call at 020 3369 8682. One thing is certain, you will have a lot more peace of mind when you finally realize that you don't have to worry about your plumbing problems any longer. Even more importantly, you know that you are protecting your home or your business and that you are preventing whatever the problem is from getting worse. Knowing that you have someone in your corner from beginning to end can easily make all the difference in the world and we are happy to be the company that can be there for you.